Nelson was one of the places we were most looking forward to visiting. It was home to Matt whilst he lived in New Zealand. He loved it and we were sure we would love it too from what we had heard and read. We were to stay with friends Brian and Trevor who we had met on their trip to the UK and who had invited us to stay with them when we were in town.
The drive from St Omer to Nelson was not much over 150KM but slow going due to the state of the roads for the first part of the journey out of the Sounds – the reverse of our inward journey.
We broke the drive by stopping at Havelock for lunch. Havelock is a small coastal town – population less than 1,000 – on Pelorus Sound and is famous as being the green lipped mussel capital of the world. The town pretty much consists of a small marina and a single street wide street of a few shops, galleries, eateries and a Four Square Supermarket. Each of the eateries majors on mussels including the supermarket which like most supermarkets in this neck of the world sells fresh live mussels.
The eateries offer their mussels in a variety of ways, including pies but we managed to resist the mussel temptations and opted to buy the makings of a sandwich from the Four Square.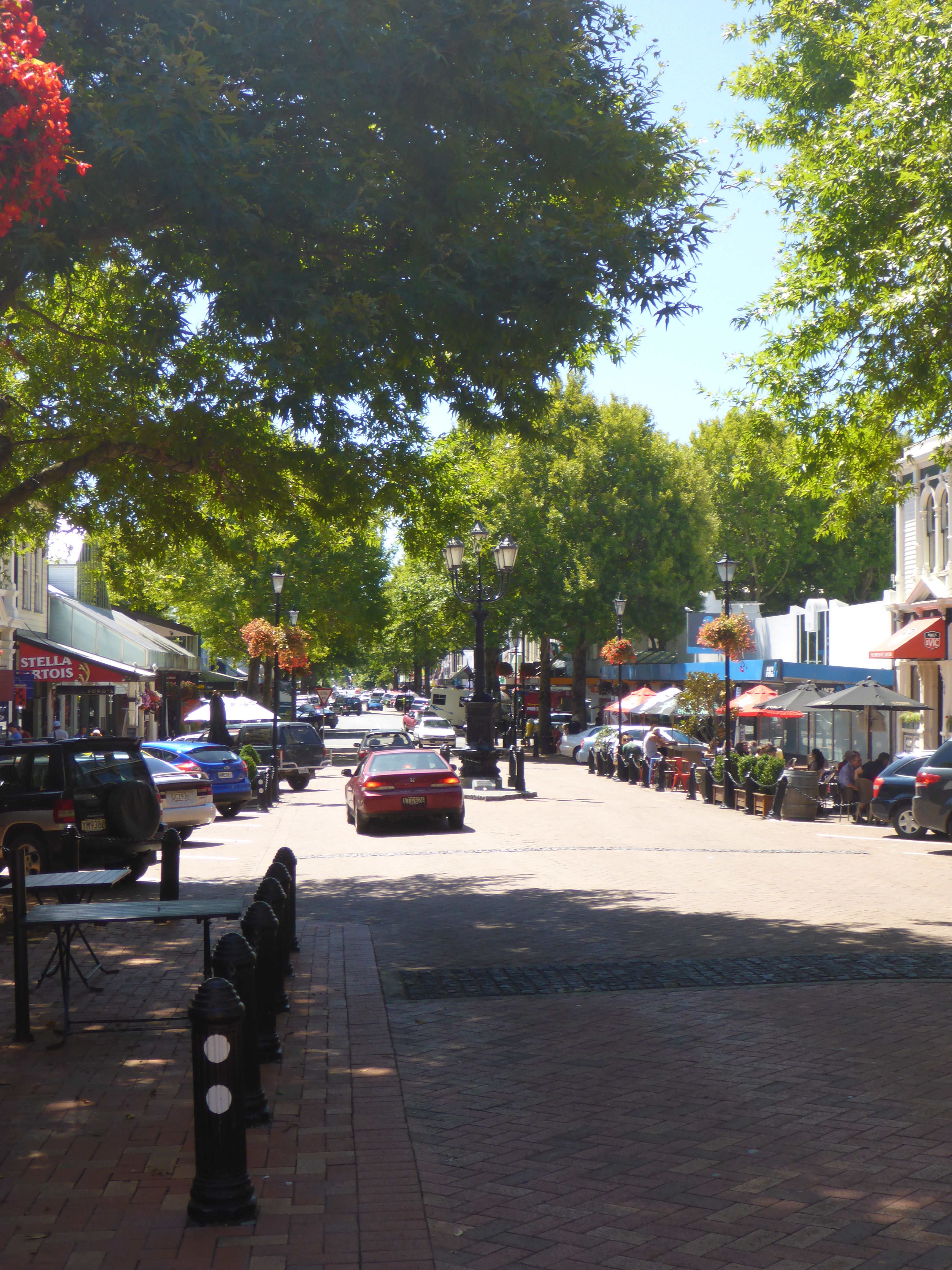 We arrived in Nelson mid-afternoon and spent an hour or so wandering around town to find Ann a hairdresser and visiting the I Centre (tourist information) which was packed with people looking for accommodation and info. With hairdresser sorted we called Brian who had offered to meet us in town as the house was apparently a tad tricky to find.
That evening we enjoyed the craic with a great dinner cooked by Trevor and retired not too late pleasantly knackered after a long day finished off with a few beers, wine and, of course, one or two off the top shelf.
The following day we drove the short way up the coast to Rabbit Island, a huge and lovely beach perfect for families. We didn't linger but did notice that here, as elsewhere, there was a complete absence of litter on the beach; picnic benches and fixed heavy duty barbecues were provided and the place generally was well set up for recreation with miles of walking and cycle tracks in the area.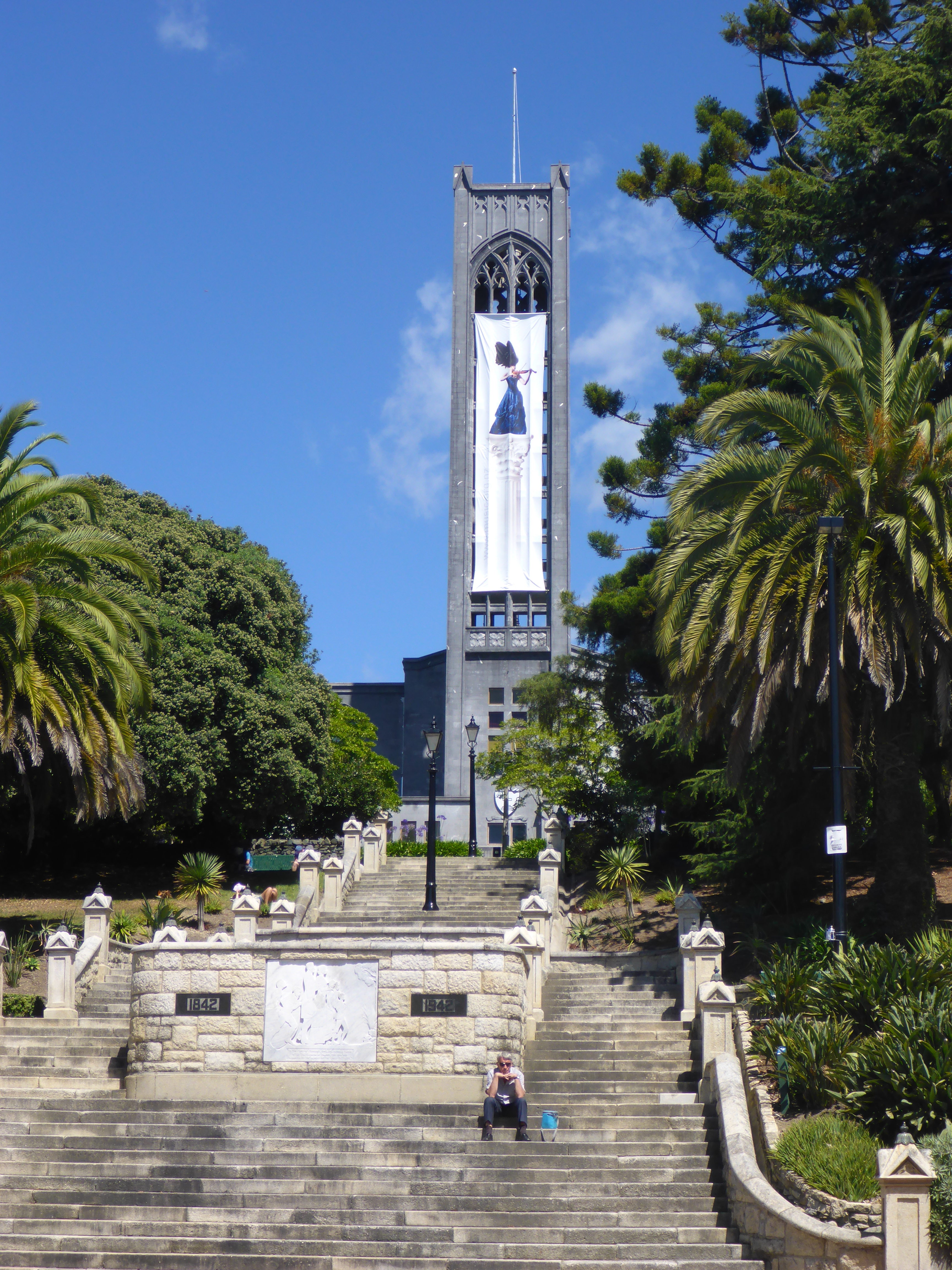 Mapua is a small town West of Nelson on the Waimea Estuary with a nice wharf area that has developed as a little tourist spot with art and sculpture studios and other assorted retail opportunities. There are a few bars, cafes and restaurants including the ubiquitous fish and chip shop which in this case also sold fresh and smoked fish. New Zealand apparently doesn't have a national dish but every town seems to have at least one take-away that likely as not sells a variety of goodies including chips and a selection of different types of fried fish. To date we have spotted few chippies that sell hot pies but most towns have a bakery selling pies and a hot pie cabinet seems to feature in almost any other food outlet or supermarket you can find. The pies have a wide range of fillings and three weeks into this trip, if anyone had asked us to guess the National Dish of New Zealand we would have guessed at "Fush & Chups" as the Kiwis say, or pies! (At the time of writing this, 1st March, we still haven't tried a pie which is amazing given my love of pastry treats in the form of pies and pasties.)
After lunch it was back to Nelson for a wander around the town. We were impressed with the place; a really pleasant laid back atmosphere with everything seemingly happening at half pace. The streets were clean with a variety of shops bars and restaurants with a few food and drink stalls set up at the crossroads of the main streets selling coffee, ice cream and a variety of ethnic foods all adding to the cosmopolitan feel of the place.
Brian was working that evening so Ann and I dragged Trevor into town for a curry. Brian suggested a Malay/Indian restaurant which was excellent. With a beer/wine or two followed by a nightcap back at the house it was time for bed. Trevor was flying to Wellington early next morning so we said our goodbyes before retiring.
Next morning, we bade our farewells to Brian who sent us on our way with a pack of frozen whitebait. We had seen whitebait advertised in a number of places including some on those home made roadside advertising boards You often see selling fresh eggs or fruit. I had also seen reference to "white baiting" when reading up on fishing in NZ.
Trevor had explained that the whitebait were much smaller than we are used to in the UK and although this wasn't whitebait season, he had promised some for us to try. Whitebait here in New Zealand are the juveniles of a number of fish types which are born in freshwater, swept out to sea with the tide and then return to the rivers and streams in spring.
It seems that during the whitebaiting season (August to November) locals and visitors alike flock to the many rivers and streams throughout the country to harvest the fish with nets. Unlike other fish caught by recreational fishers, whitebait can be sold which no doubt is part of its attraction. The pursuit of whitebait is said to be an iconic part of New Zealand life and culture.
The fish are mixed with beaten eggs, seasoned and formed and cooked as small patties.
Before we left Nelson, once Ann had been to the hairdressers and we had dined on excellent Turkish kebabs, we shopped at Countdown before driving North to Kateriteri where we would stay for 3 nights
Nelson has left a definite impression on both of us. I have asked Ann if we can go back to live there. She has promised to think about it!