The drive from Kaikoura to Picton is around 160km (100 miles) and takes around 2.5 hours but we stopped off to Blenheim about 20 minutes short of Picton to pick up some groceries; this trip, for NZ and OZ anyway, will be largely self catering, not just for budgeting reasons but also because dining out night after night is just too much.
Blenheim is the largest town in the Marlborough Region with a population in the region of 30,000. This is an agricultural area with the economy based on horticulture and sheep but the area is best known as the centre of New Zealand's wine industry. Marlborough Region is by far the biggest wine producing region and 86% of it is Sauvignon Blanc.
We didn't linger in Blenheim which was busy but didn't seem particularly interesting. A supermarket shop and a brief visit to the Blenheim branch of Hunting & Fishing saw us back on the road to complete the drive to Picton.
Picton is a small town on the North coast of Marlborough and the launch pad for inter-island ferries between South and North Islands but also the set off place for most people heading for the Marlborough Sounds, our next destination.
We were to spend 5 nights on the far side of Kenepuru Sound in a chalet at St Omer Bay. The chalet was well off the beaten track and so self catering was pretty much the only option. Picton seemed a good place to stop and stock up on on groceries and other essentials for St Omer.
We were very pleasantly surprised on our arrival in the town. We had expected a pretty rough and ready port town but found our accommodation, Harbour View Motel, overlooked a very picturesque marina with tree covered hills either side. The town itself wasn't particularly exciting but we managed to find a decent bar for a couple of beers followed by a take-away of hot cooked chicken.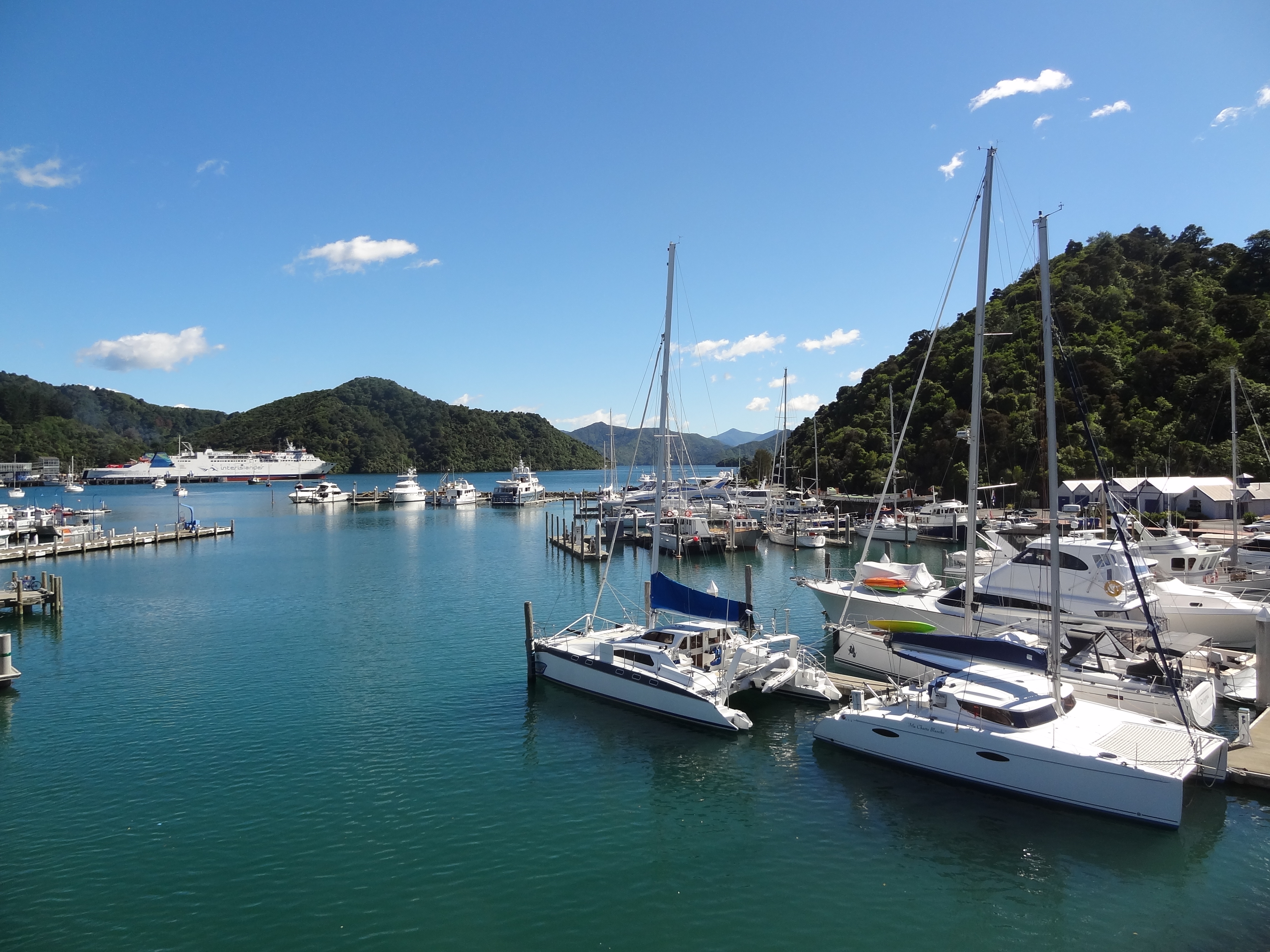 The following day, 3rd February, was our only full day in Picton. We filled the morning with a decent tramp around one of the bush tracks running out of the town alongside the entrance to the harbour. In the afternoon we did a Winery Tour around Blenheim which we had arranged with the Harbour View the previous evening.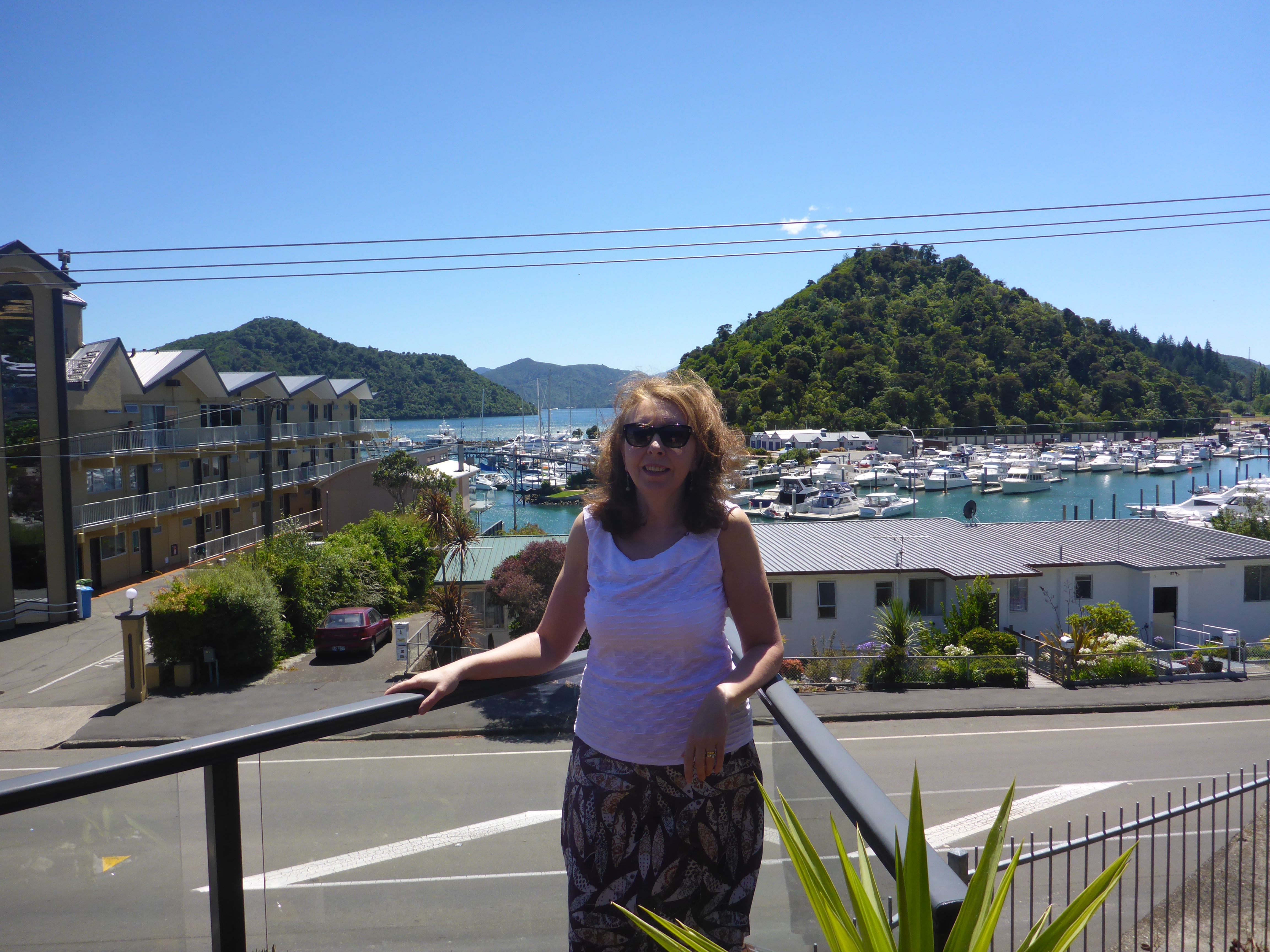 The Winery Tour took in 4 wineries with tastings at each one. This was a minibus tour with 10 or so others, a real mix of nationalities but including 3 or 4 who seemed to really know their grapes.
We have never done a wine tour before. It's fair to say that our Driver was quite entertaining and most of the wines we tasted were top notch but we found the routine at each of the "Cellar Doors" pretty repetitive with the exception of Bladen Winery which is a family winery where our host was a family member who entertained us with stories of the highs and lows of the planting and development of a winery.
All in all we enjoyed the afternoon but it's unlikely we will repeat!
We left Picton on 4th February agreeing that we would have been happy to stay at least one more day to see some more of the area. But the Marlborough Sounds beckoned…