Ucluelet lies on the west coast Pacific Rim of Vancouver Island which itself lies off the coast of Vancouver, just about as far west as you can get into the Pacific. The island is largely covered in temperate rainforest and with very towns of any size, it means there is a lot of wilderness country.
Industries on the island are logging, fishing, tourism and in the capital Victoria, a growing technology industry. Ucluelet is a commercial fishery with a population of less than 2,000, is a commercial fishery but is it's a small quiet town where tourism is low key compared to it's nearest neighbouring town Tofino, half an hour north which is very much geared up for tourism and is apparently much more touristic. The place is popular with fisherman, walkers, surfers and storm watchers and it has plenty of interesting history for the reader who cares to search for it.
We stayed in a beautiful apartment on Ucluelet's small boat harbour only yards from the waterfront.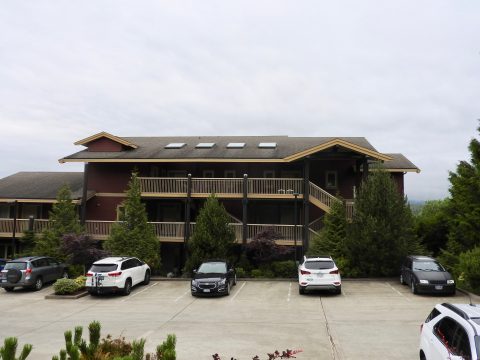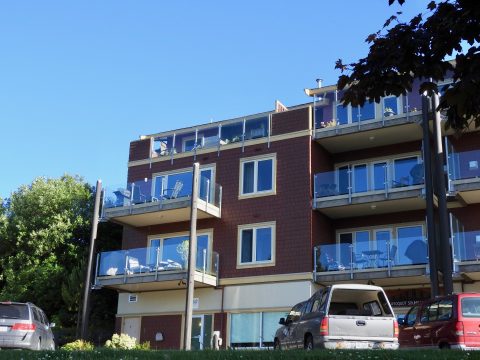 This was probably our best rental property in over 3 years of travel
And rooms with views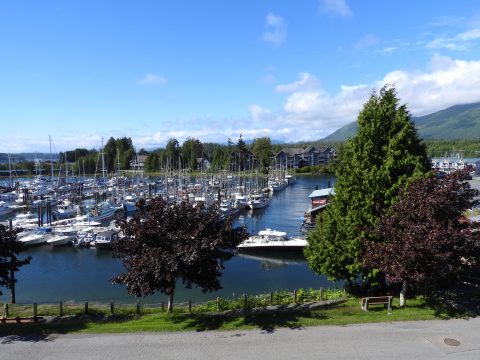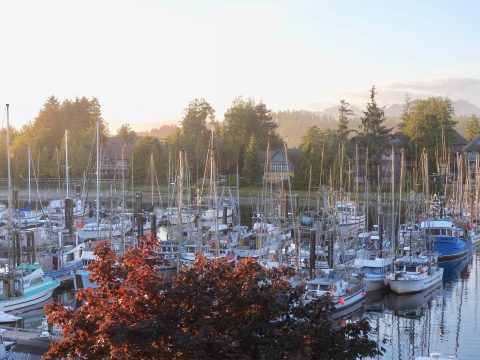 These otter photos were taken from our balcony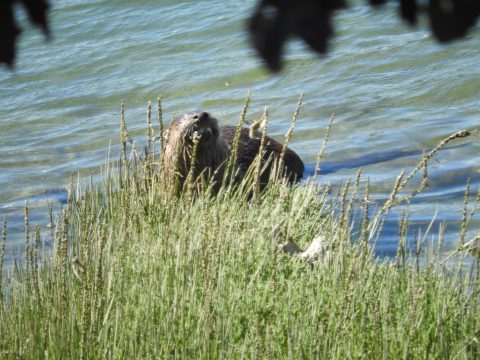 as was this picture of 3 bald eagles circling above…..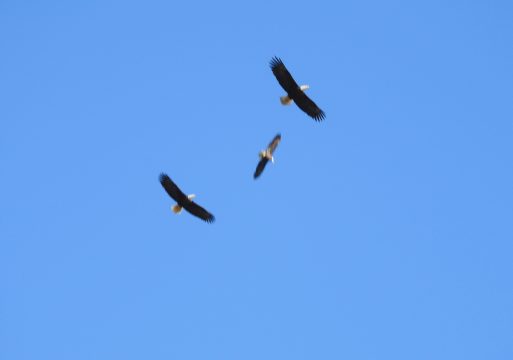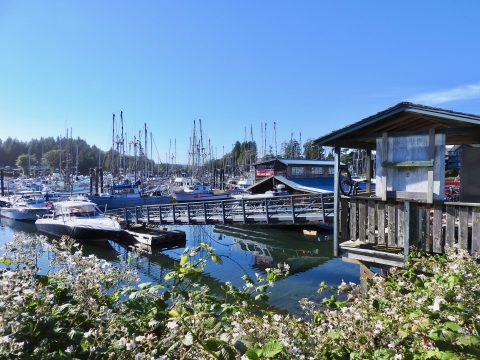 Here are some pictures of the town itself. There are several tired looking motels with a few better quality hotels on the edge of town. Otherwise the town comprises a collection of timber  buildings, mostly very ordinary. There's a handful of eateries, the best one prohibitively expensive and a couple of food wagons, one selling fish and other chips and other delights, the second one majoring in oysters! Jiggers Fish and Chips van is actually the number one eatery on Tripadvisor – very good fresh fish and fries. There's also a couple of Liquor Stores, a few tourist tat shops and a Fish Guiding company or two. A fairly large Coop Store satisfies most day to day shopping needs. All in all, plenty to satisfy our needs for our 5 nights here. Oh, and there's a small church for those that need it!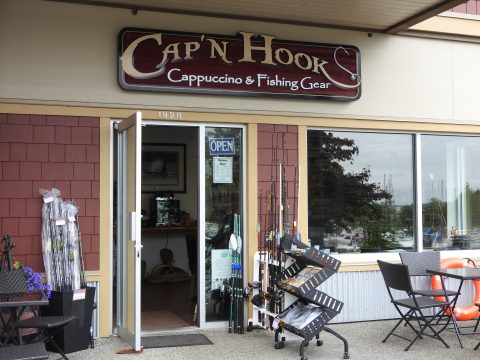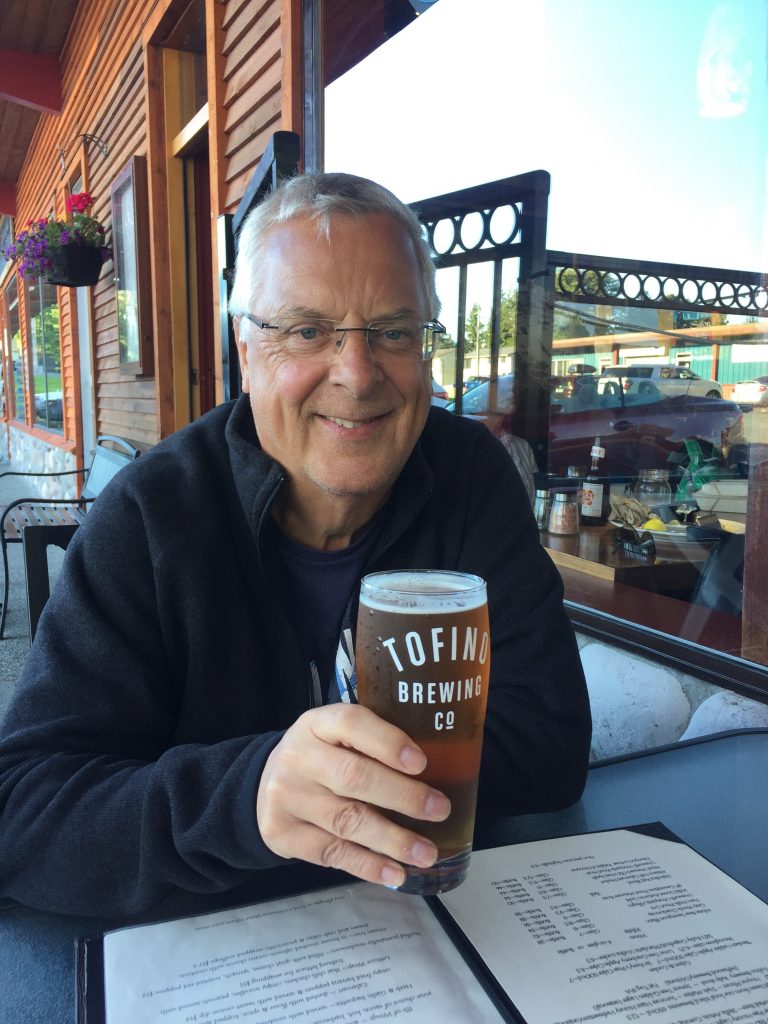 The Wild Pacific Trail
This trail is a must-do when in this area. It's 8km in total but can be done by way of several shorter walks. There are numerous look-outs, each one with a bench so you can sit and enjoy the views. Absolutely stunning scenery.
This really is a wild coast famous for spectacular salmon and halibut fishing. It's also famous for its violent storms and many come on holiday to Ucluelet for storm watching!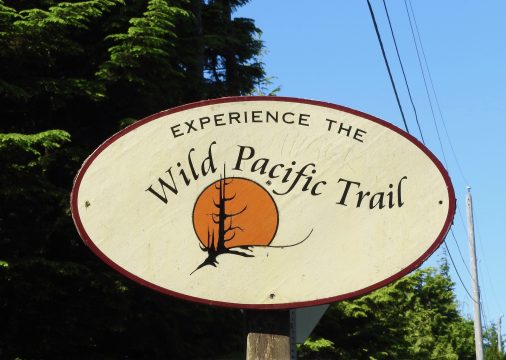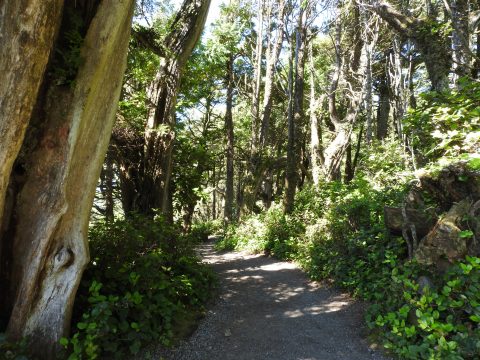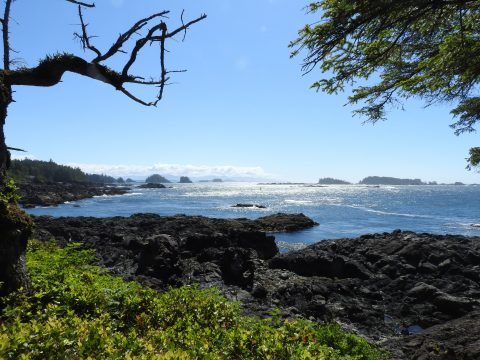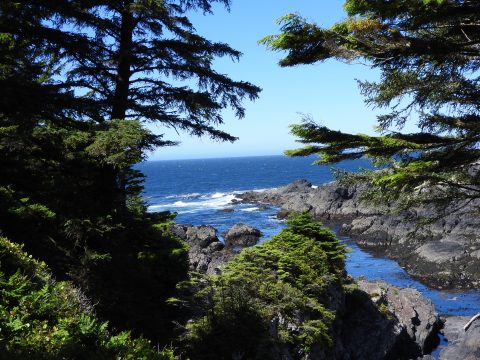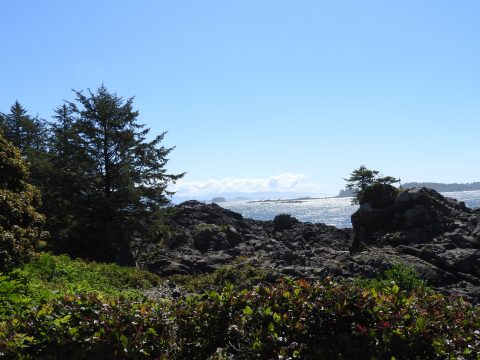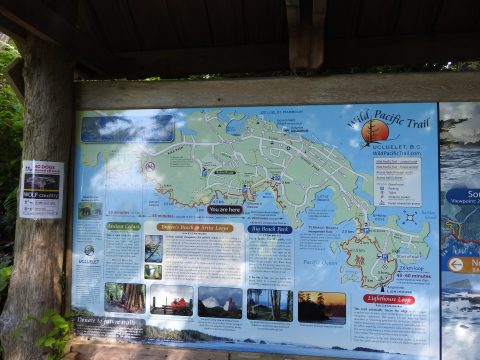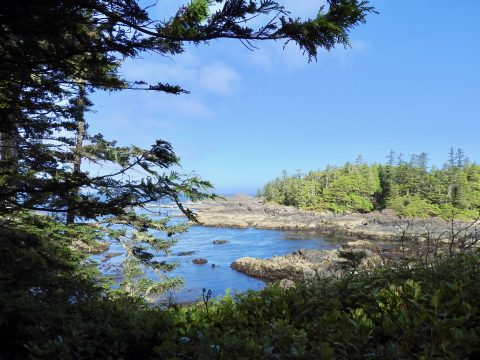 This area is part of the Graveyard of the Pacific, a stretch of the coastal region in the Pacific Northwest, from the Oregon Coast northward to Vancouver Island. The unpredictable weather conditions and coast characteristics have caused more than 2,000 shipwrecks in this area and there are still ship wrecks at the bottom of the sea in this area. The lighthouse below (or it's storm wrecked predecessors) was built by popular demand.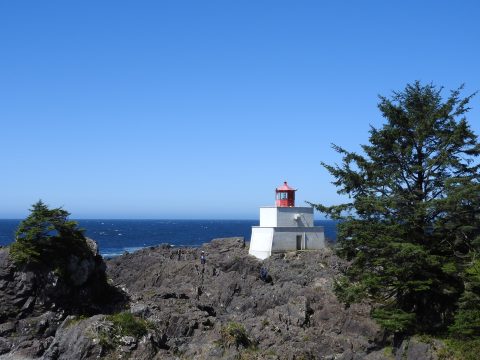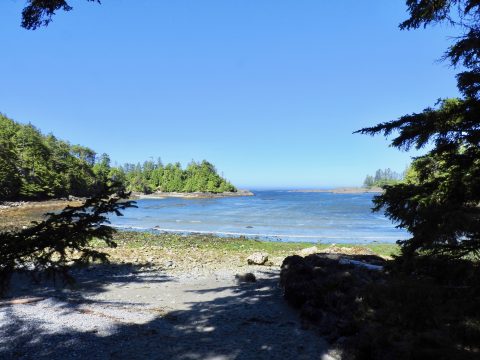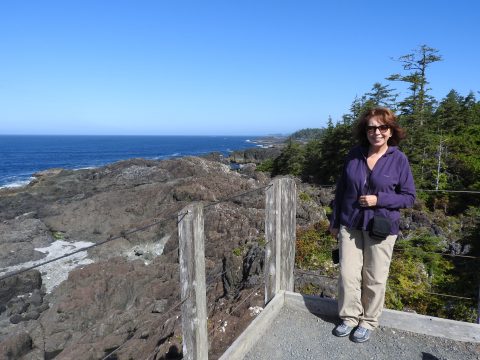 Archipelago Wildlife Cruise
This was a great day out with a Canadian Skipper and his South African wife on their beautifully fitted out luxury boat. We chose this tour above others because of its great reviews and reputation as one of  the best tours in Canada let alone Vancouver Island. About 20 of us enjoyed the day which took us into the Broken Islands Group and Barkley Sound to see bags of wildlife (although sadly no whales), with a lovely gourmet lunch served with a glass of wine. Very nice indeed and highly recommended.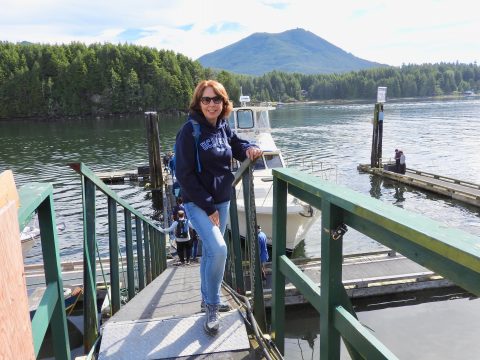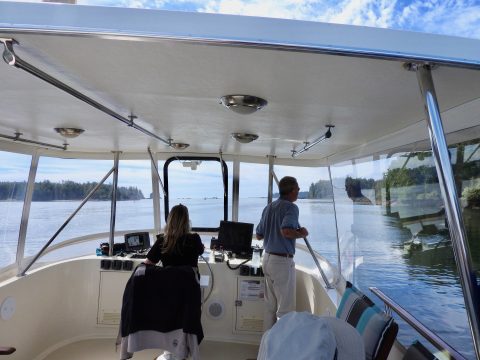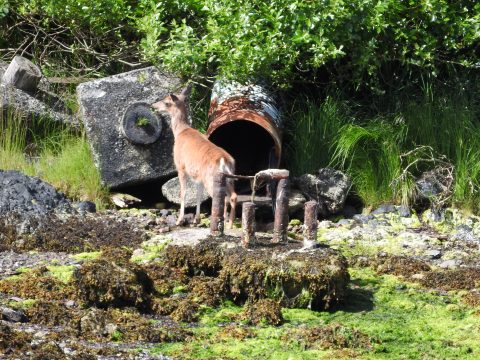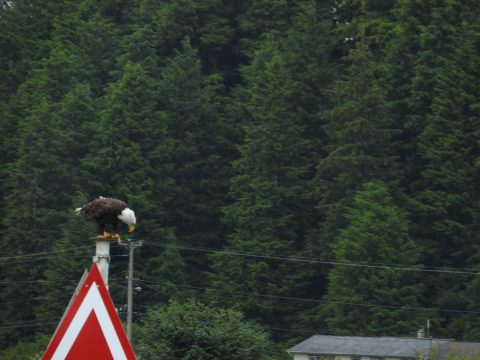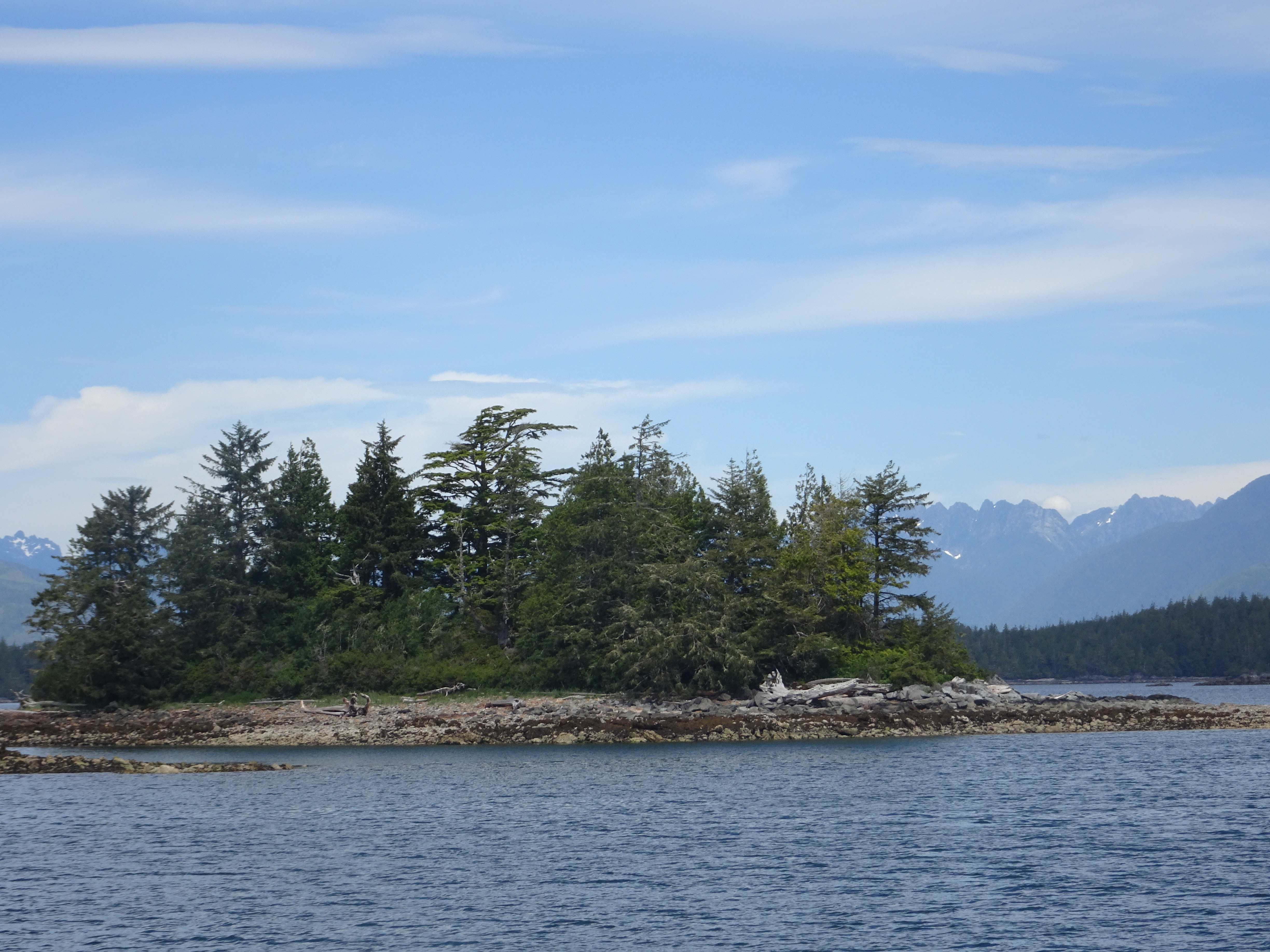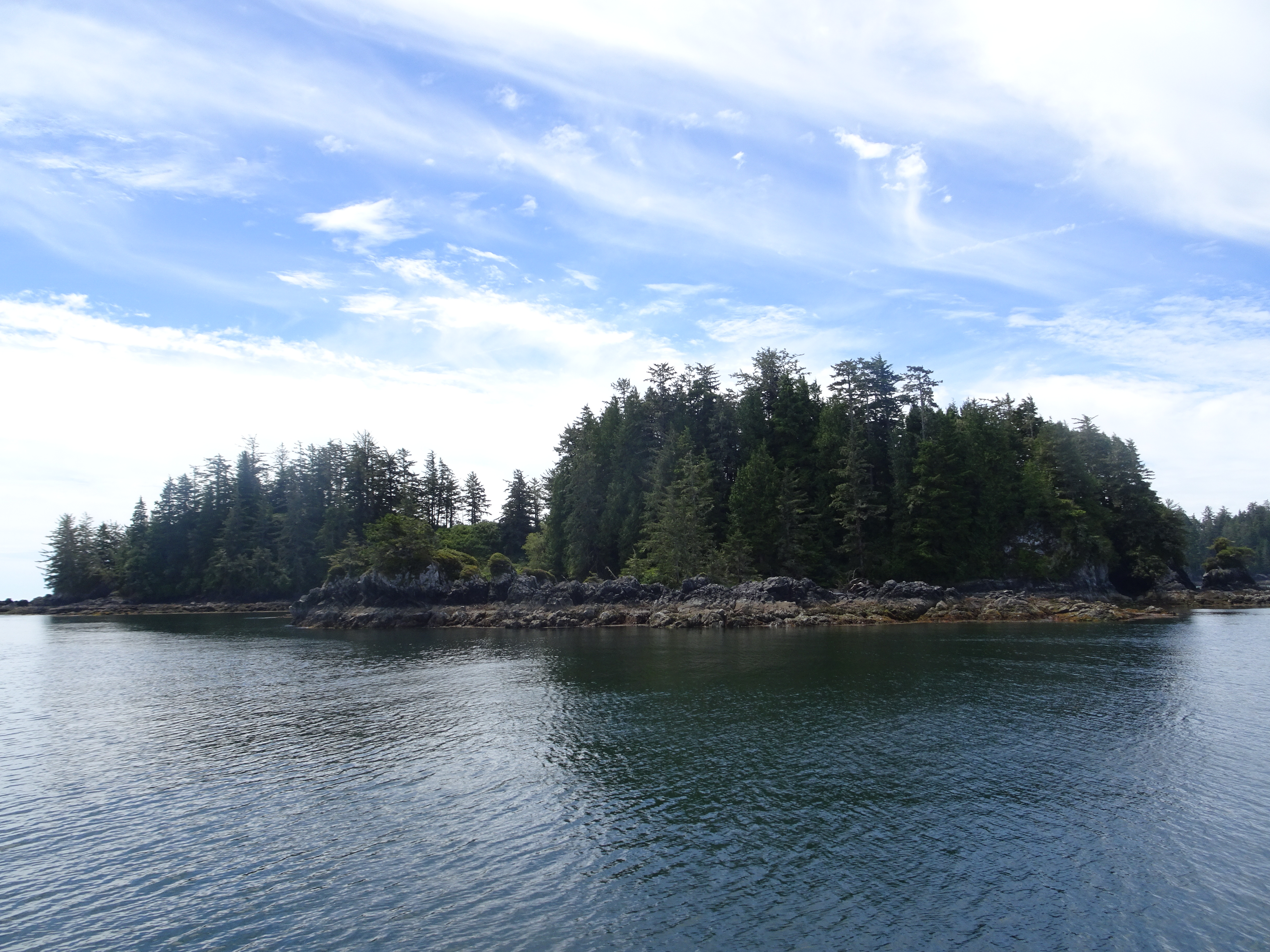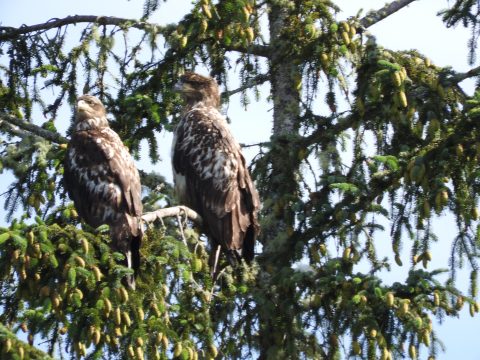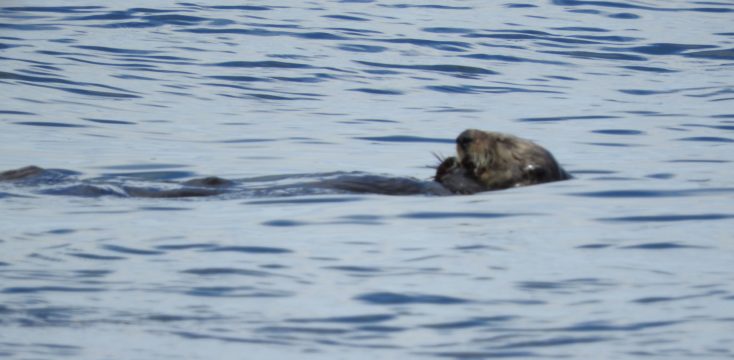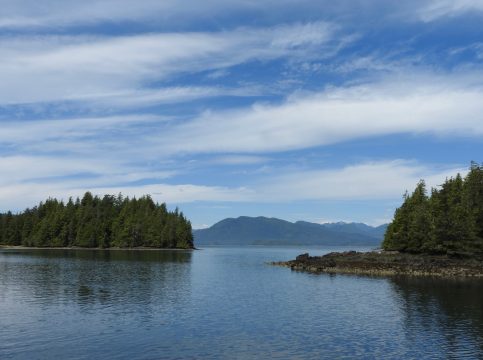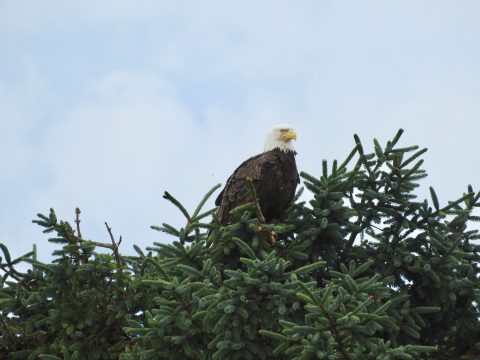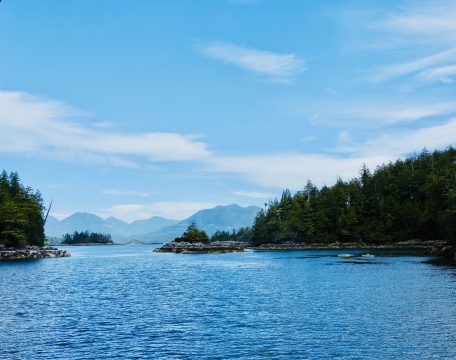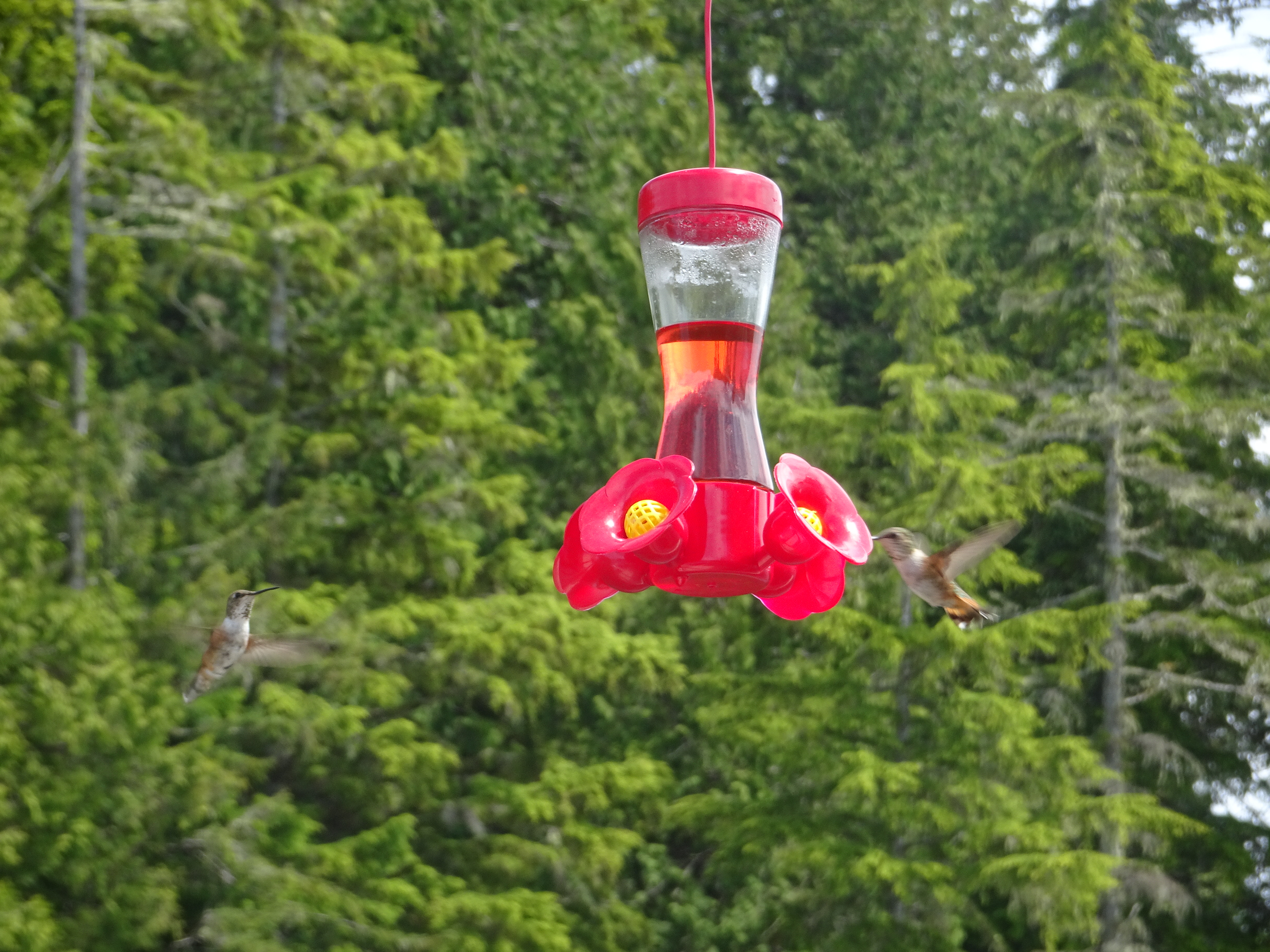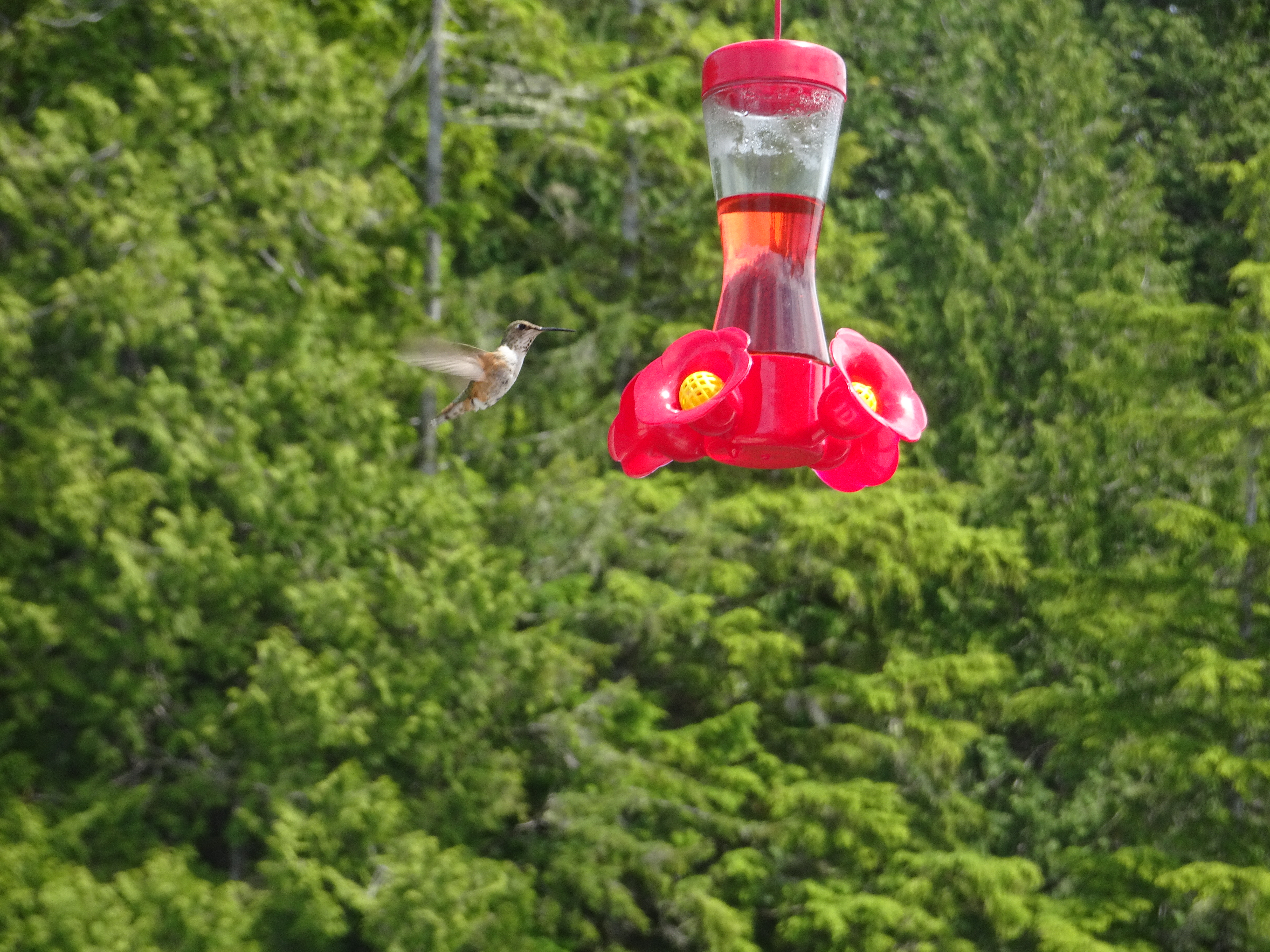 Seals and Sea Lions
I confess that theses creatures weren't top of our must sees. After all, harbour seals are commonly seen in many places around the UK let alone overseas. However, to see these animals in big numbers  on tiny islands way out in the Pacific Ocean is something special. And its not just the sights, the noise made by a big group of sea lions constantly fighting and bickering with each other is impressive.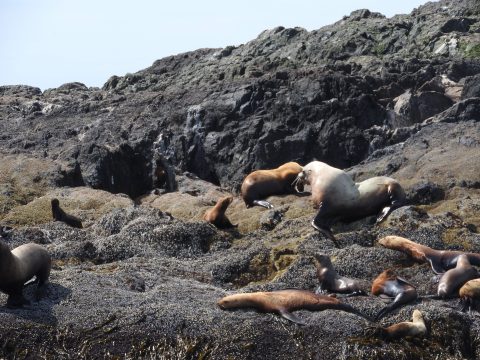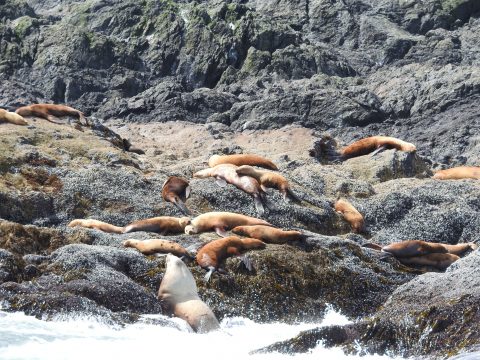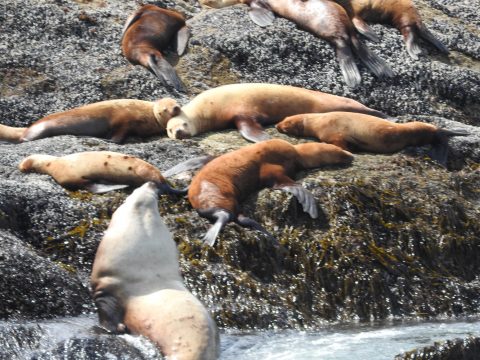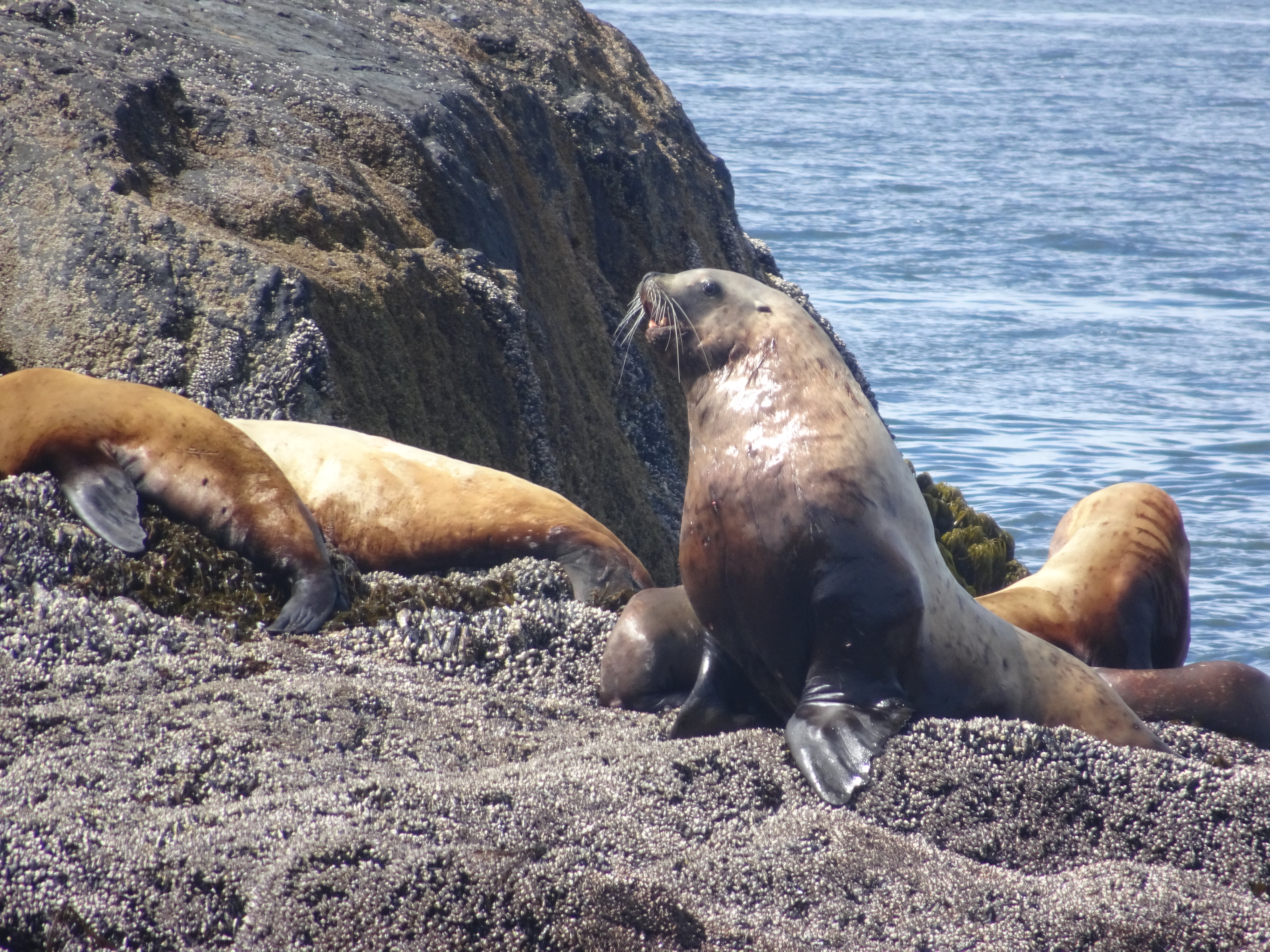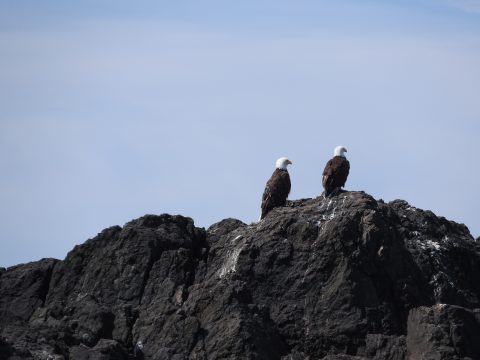 There are a number of companies who specialise in whale watching tours operating out of Ucluelet but the numbers of whales visiting the area have reduced considerably over the past several years for reasons unknown. These various operators share information and whale sightings in real time and around lunch time we did get a message of a spotting. Unfortunately the whale was out of our range and in fact none of the operators got to see that whale.
Bears and wolves are commonly seen on Vancouver Island and bears are virtually always seen on this tour. Bears are even seen in the town on occasion but this  turned out to be a bad bear day and we spent quite some time searching out bears along the shore. Finally, a young adult black bear was spotted. Unfortunately it wasn't the biggest bear and we couldn't get very near to the shore due to rocks but we did manage to get one photograph! Our final spot of the day !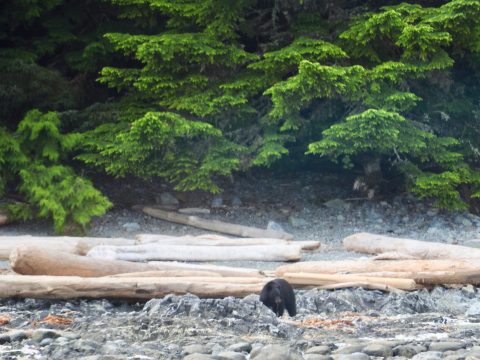 This really was a memorable day and one of the highlights of our Canada trip to date.We were blessed with good weather which was more than lucky as we booked this trip several months previously. Especially lucky as the following day there was serious rain which likely resulted in the cancellation of the cruise that day.
After 5 nights in Ucluelet, we left on July 6th for Victoria, south Vancouver Island.